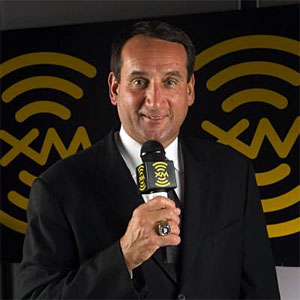 Mike Krzyzewski hosts his own Sirius XM Satellite Radio program. Now in its fifth season, Basketball and Beyond with Coach K offers a mix of topical issues, such as the state of college basketball, interviews with special guests, including business leaders, entertainers, media members, coaches and athletes, and Krzyzewski's personal perspective on principles for life on and off the court. Coach K and his co-host, sportscaster Dave Sims, can be heard on the hour-long program each week during basketball season.
Please check XM or SIRIUS for air dates and times. In addition to the initial airing, there are several encore presentations each week.
Ask Coach K…
Would you like to participate in the show by asking Coach K a question? Here's your chance. Submit a question for Coach K. Each week he'll open the mail bag along with co-host Dave Sims to answer your question.* Don't miss out on your chance to join the program!
*Please note that it may not be possible for Coach K to reply to all questions personally.