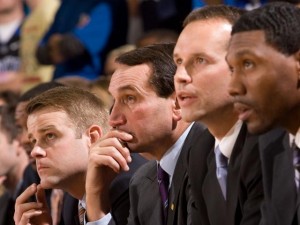 Entering the 2011-12 season, Coach K owns a 900-284 record in 36 years of coaching, including an 827-225 mark in 31 seasons in Durham. He is three wins shy of becoming the winningest coach in Division I men's college basketball history.
Krzyzewski's record as Duke's all-time winningest coach offers evidence of his success, but even more impressive are the four national championships. The fourth title came in 2010 with a 61-59 win over Butler in Indianapolis while he also led Duke to the championship in 2001 and to back-to-back titles in 1991 and 1992, making him one of only two coaches since UCLA's John Wooden with such an accomplishment. In 2005-06, Krzyzewski passed Wooden to move into first on the chart of coaches who have led their respective schools to a No. 1 national ranking. Coach K has now led Duke to the top spot in the AP poll in 15 seasons, including 10 of the last 14 years.
He and the Blue Devils have been a fixture on the national basketball scene with 16 consecutive NCAA Tournament berths from 1996-2011 and 27 in the past 28 years. Overall, he has taken his program to postseason play in 28 of his 31 years at Duke and is the winningest active coach in NCAA Tournament play with a stunning 79-23 record for a .775 winning percentage. On March 20, 2005, Krzyzewski surpassed Dean Smith's career tournament win total of 65 with a 63-55 triumph over Mississippi State in the second round of the NCAA Tournament.
To top off an incredible year in 2001, after Duke won its third national championship, Krzyzewski was named to the Naismith Basketball Hall of Fame class along with Temple's John Chaney and former NBA star Moses Malone. The induction ceremony was held in Springfield, Mass., on October 5, 2001.
View Coach K's Career Coaching Record.
In 1992, Krzyzewski became the first college coach to be named the Sportsman of the Year by The Sporting News. The magazine said of Coach K, "On the court and off, Krzyzewski is a family man first, a teacher second, a basketball coach third, and a winner at all three. He is what's right about sports…"
Krzyzewski received another prestigious honor in 2001 as he was named "America's Best Coach" – all coaches, any sport, any level of play – by Time magazine and CNN. "No college hoops coach has won more in the past two decades," wrote Josh Tyrangiel of Time, "and Krzyzewski has accomplished all this with a program that turns out real-deal scholar athletes – kids who go to class, graduate and don't mind telling everyone about it."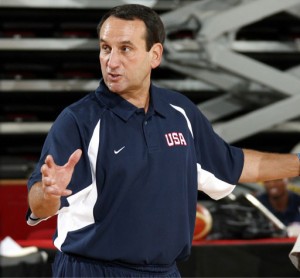 In October 2005, Coach K received an unparalleled honor when he was named the first United States National Head Coach in USA Basketball history. While previous individuals have coached national teams in specific competitions, Coach K will lead Team USA for a three-year term that includes this summer's World Championships in Japan and concludes following the 2008 Olympic Games in China. Said Jerry Colangelo, the Managing Director of USA Basketball's Men's Senior National Team, about Coach K's appointment, "Mike Krzyzewski is the right man at the right time. His professional record speaks for itself. His loyalty and commitment to his country is more than self-evident and his success as a leader of men is also a part of who he is."
With Krzyzewski at the helm, Team USA reclaimed the gold medal at the 2008 Beijing Summer Olympics with a 118-107 victory over Spain. Krzyzewski guided the U.S. squad to a perfect 8-0 record in the Olympics as the team averaged 106 points per game while winning by an average margin of 27.9 points per contest. In the summer of 2007, he guided the USA squad to a gold medal victory and an unblemished 10-0 record in the FIBA Americas Championship.
On March 1, 2008, Coach K recorded his 800th career victory with a dramatic 87-86 win at N.C. State.
Player Quotes
Krzyzewski's players know how special their coach, mentor and friend is.
"I played for the greatest college coach of all-time," said Shane Battier, one of the most decorated players in the history of the game. "It was an amazing journey."
Two-time National Player of the Year Jason Williams echoed Battier's sentiments: "It's a dream to play for a guy like that — a guy who's just a rock, who believes in you every second you're on the court. I love Coach K. I'd run through a brick wall for him."
Standard of Excellence
Coach K's 31 years at Duke have been driven by an unmatched standard of excellence. His Duke career includes:
Four National Championships (1991, 1992, 2001, 2010)
12 National Coach of the Year honors (eight seasons)
Seven National Players of the Year (nine honors)
Six National Defensive Players of the Year (nine honors)
27 NCAA Tournament bids
23 All-America selections (37 honors)
11 Final Four appearances (T-2nd all-time)
12 ACC regular season championships
13 ACC Tournament championships
827 total victories (374 ACC wins)
466 weeks ranked among the nation's top 25 teams
405 weeks ranked among the nation's top 10 teams
104 weeks ranked No. 1 in the country
79 NCAA Tournament victories (first all-time)
43 NBA Draft selections, including 23 in the first round
16 NBA Lottery picks